Inside cover blurb:
"Surrounded by enemies, the once-great nation of Ravka has been torn in two by the Shadow Fold, a swath of near impenetrable darkness crawling with monsters who feast on human flesh. Now its fate may rest on the shoulders of one lonely refugee.
Alina Starkov has never been good at anything. But when her regiment is attacked on the Fold and her best friend is brutally injured, Alina reveals a dormant power that saves his life—a power that could be the key to setting her war-ravaged country free. Wrenched from everything she knows, Alina is whisked away to the royal court to be trained as a member of the Grisha, the magical elite led by the mysterious Darkling.
Yet nothing in this lavish world is what it seems. With darkness looming and an entire kingdom depending on her untamed power, Alina will have to confront the secrets of the Grisha . . . and the secrets of her heart."
-from publisher
Thoughts:
I tried to read this once, about three or four years ago and I DNF around 100 pages in.
I have since become OBSESSED with Leigh Bardugo thanks to Six of Crows! (Even though I didn't like the second one as much…) But Six of Crows really got me into the Grishaverse which was just what I needed to commit to this trilogy.
I feel like there is a very obvious difference between Shadow and Bone– Bardugo and Six of Crows– Bardugo. Her writing seems less mature and well-rounded here. But that doesn't stop it from being an enthralling read. I'm not much of an Alina fan, but I think I she will grow on me. I am also low-key obsessed with the Darkling and want to know everything about him. I just love the feel of the Grisha world- the Russian influence and the rich lore that permeates it all.
There is a sense that there is something wonderful building here, but I want more! I hate when a book feels unfinished simply because it is part of a series.
Plus: I definitely want to live in the Grishaverse! Unless I'm a peasant, then I'll pass. And the Darkling! Kind of a jerk, but also so mysterious…
Minus: That unfinished business vibe really bothers me. Guess I'll just have to read the rest of the trilogy, woe is me.
If you like this book, try: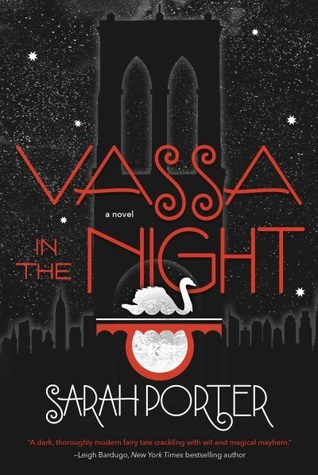 Vassa in Night by Sarah Porter- It's a super weird book! But very fun and plays off of a lot of Russian folklore, just like Shadow and Bone.