Inside cover blurb:
"Millie Michalchuk has gone to fat camp every year since she was a girl. Not this year. This year she has new plans to chase her secret dream—and to kiss her crush. Callie Reyes is the pretty girl who is next in line for dance team captain and has the popular boyfriend. But when it comes to other girls, she's more frenemy than friend. When circumstances bring the girls together over the course of a semester, they will surprise everyone (especially themselves) by realizing they might have more in common than they ever imagined."
-from publisher
Thoughts:
I want to hug every Julie Murphy book, always. She is one author whose novels I will always read. And when I found out there was a sequel to Dumplin', you can bet I was number one on that holds list.
This was the perfect way to do the Dumplin' sequel. The story is set in the same universe, but we get new characters to love and adore.
Millie is passionate about future career, but people tell her she can't achieve it for completely shallow reasons. Her story is heartbreaking and entirely too relatable, especially her relationship with her mom.
But the best part of the story is Callie, a girl with a reputation for being shallow and petty. When she gets thrown together with Millie, however, her true personality (though she definitely keeps her sass) begins to shine. I like that we get kind of an antihero for a change. Some of the revenge stunts she pulls are rather inspired, I must say.
This is an all around great book. Murphy dives into some deep subjects- stereotypes, body positivity, race and sexuality- but she manages to keep the overall tone upbeat and I am here for it.
I can't wait to see what she does next!
Plus: Great characters and even though you know you're likely getting a happy ending, the plot lines don't end up totally predictable.
Minus: I thought some of the supporting characters deserved a little bit more love…but maybe they'll be the lead in another sequel!
If you like this book, try: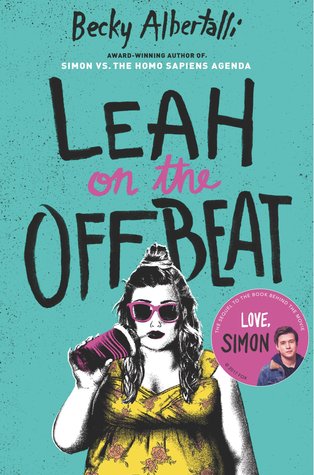 Leah on the Offbeat by Becky Albertalli- Just like Puddin' follows a supporting character from Dumplin', Leah on the Offbeat is centered on Simon's best friend from Simon vs. the Homo Sapiens Agenda. Hmmm, I wonder if Albertalli and Murphy are friends….Great minds think alike!