Inside cover blurb:
"Three sisters. One spell. Countless dead.
Lula Mortiz feels like an outsider. Her sister's newfound Encantrix powers have wounded her in ways that Lula's bruja healing powers can't fix, and she longs for the comfort her family once brought her. Thank the Deos for Maks, her sweet, steady boyfriend who sees the beauty within her and brings light to her life.
Then a bus crash turns Lula's world upside down. Her classmates are all dead, including Maks. But Lula was born to heal, to fix. She can bring Maks back, even if it means seeking help from her sisters and defying Death herself. But magic that defies the laws of the deos is dangerous. Unpredictable. And when the dust settles, Maks isn't the only one who's been brought back…"
-from publisher
Thoughts:
More, more, more! Give me more now! Thank you to Sourcebooks Fire for sending me this ARC.
I loved Labyrinth Lost and I was actually a little surprised to find that I enjoyed Bruja Born just as much- you don't always get lucky the second time around.
Bruja Born is more urban fantasy- everything takes place in New York and the fight comes to the girls, as opposed to Labyrinth Lost, where Alex went to Los Lagos. This means that Bruja Born gives us more of a glimpse at the Mortiz's sisters home life and relationships with one another, which let me just say, I personally would not mess with them. They are three badass babes.
Both stories have a flavor and style that is unique to the sister it's focused on. Lula's journey focuses on her emotions and how she learns to accept imperfection. My spidey senses tell me that perhaps the next book in the series will center on the third Mortiz sister, Rosie. I sure wouldn't be mad- I definitely want to hear more about her and her powers!
I learned from the afterward that some of the characters/organizations that appear in Bruja Born were first introduced in The Vicious Deep, Corodova's series about mermaids. I always thought those books sounded kind of dweeby, to be honest, but now I'm kind of intrigued…maybe that's what I'll read while I sit here waiting for the third installment of Brooklyn Brujas.
Plus: Powerful female brujas and magic that disturbs the balance of the universe. I'm so into it.

Minus: The plot didn't always flow as well as I would have liked, but that didn't stop me from enjoying it overall.

If you like this book, try: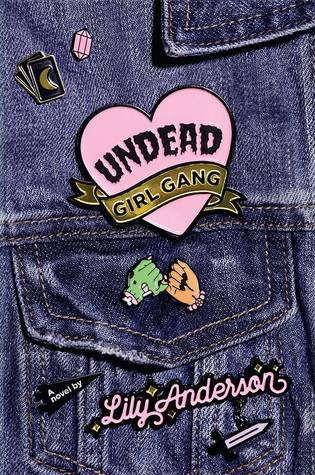 Undead Girl Gang by Lily Anderson- A teen Wiccan finds out she has the power to raise the dead after her best friend dies under suspicious circumstances. Pretty similar to Bruja Born in some ways, but with a bit more dark humor.