Inside cover blurb:
"At seventeen, Mei should be in high school, but skipping fourth grade was part of her parents' master plan. Now a freshman at MIT, she is on track to fulfill the rest of this predetermined future: become a doctor, marry a preapproved Taiwanese Ivy Leaguer, produce a litter of babies.
With everything her parents have sacrificed to make her cushy life a reality, Mei can't bring herself to tell them the truth–that she (1) hates germs, (2) falls asleep in biology lectures, and (3) has a crush on her classmate Darren Takahashi, who is decidedly not Taiwanese.
But when Mei reconnects with her brother, Xing, who is estranged from the family for dating the wrong woman, Mei starts to wonder if all the secrets are truly worth it. Can she find a way to be herself, whoever that is, before her web of lies unravels?"
-from publisher
Thoughts:
I had actually said to myself that I would never read this book because the cover and title were so unappealing. But I saw it available for checkout from the library on my Kindle and thought, "Eh, why not."
And for the most part, I ended up really liking it! But man, does this book really need a different cover/to be marketed entirely differently.
Everything I've seen about this book makes it out to be a fun, romp of a novel. There are some funny parts sure, but it's mostly pretty heavy. Mei's parents are very intense and she's under incredible pressure to make them happy. They've completely disowned her older brother, for crying out loud!
I liked Mei a lot, and I thought she was a very compelling character. She's also extremely germophobic, to the point of OCD, which the book doesn't take much time to address, since there are so many bigger fish to fry.
Honestly, I'm surprised by how much I ended up enjoying this book and I fully recommend it. But I really thought the overwhelming majority of the book was sad, especially toward the end. The cover really does it no justice.
Plus: An in-depth look at culture clash between first generation children and their parents. Diverse reads! Taiwanese culture. A YA book set in college- there really don't seem to be many of them.
Minus: That cover. So bad.
If you like this book, try: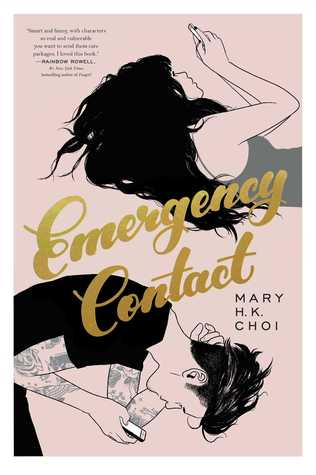 Emergency Contact by Mary H.K. Choi- SO AMAZING!!! Aspiring nerdy writer meets aspiring spiraling documentarian. Check out my review here!