Inside cover blurb:
"Danny Tozer has a problem: she just inherited the powers of Dreadnought, the world's greatest superhero.
Until Dreadnought fell out of the sky and died right in front of her, Danny was trying to keep people from finding out she's transgender. But before he expired, Dreadnought passed his mantle to her, and those secondhand superpowers transformed Danny's body into what she's always thought it should be. Now there's no hiding that she's a girl.
It should be the happiest time of her life, but Danny's first weeks finally living in a body that fits her are more difficult and complicated than she could have imagined. Between her father's dangerous obsession with "curing" her girlhood, her best friend suddenly acting like he's entitled to date her, and her fellow superheroes arguing over her place in their ranks, Danny feels like she's in over her head.
She doesn't have much time to adjust. Dreadnought's murderer—a cyborg named Utopia—still haunts the streets of New Port City, threatening destruction. If Danny can't sort through the confusion of coming out, master her powers, and stop Utopia in time, humanity faces extinction."
-from publisher
Thoughts:
THIS IS THE ONLY YA SUPERHERO BOOK WE WILL EVER NEED.
Not only is Deadnought a fantastic action/adventure story, it is one of the best coming of age novels I have ever read.
Imagine getting superpowers as a teenager…that would be hard enough. But getting superpowers and finally becoming the gender you've known you were all along- so your friends and parents no longer recognize you? And they willfully refuse to recognize you? Sheesh.
The relationship between Danny and her parents literally killed me. Her dad is infuriating, refusing to accept that she's trans and outright bullying his own child, while her mom takes the much more insidious route, claiming that Danny is only thinking of herself when she refuses to give up the Dreadnought mantle and resume her life as a boy.
And I have not in recent memory wanted to smack a character more than I wanted to smack Danny's childhood friend when he reveals what a chauvinist jerk he is.
The strongest aspect of the book is Danny and her personal journey, however. The superhero part is good, but it's just not as good. I mean how can any sci-fi/fantasy plot compete with the raw emotion of Danny's complex interpersonal relationships? That sounds like sarcasm, but it seriously isn't. A superhero book has never made me feel this many emotions before.
I would like to enthusiastically applaud April Daniels (and then give her a giant hug), for writing a trans superhero novel, and one that was so spectacularly well done!
Plus: Trans superhero. Seriously, do I need to say more???
Minus: The fight/action scenes were often waaaaay too long and drawn out.
If you like this book, try: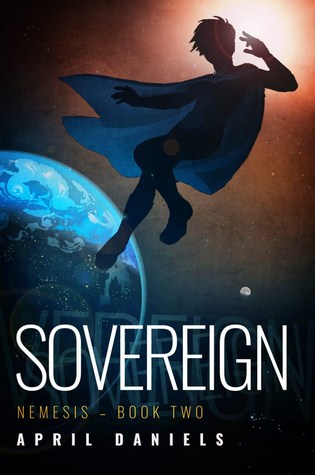 Sovereign by April Daniels- DID I MENTION THERE'S A SEQUEL?? I'm a bit hesitant to read it because sequels often fall short. But I loved the first one so much, I will at least have to give this one a shot.