Inside cover blurb:
"Inspired by Mrs Dalloway and Judy Blume's Forever, Release is one day in the life of Adam Thorn, 17. It's a big day. Things go wrong. It's intense, and all the while, weirdness approaches…
Adam Thorn is having what will turn out to be the most unsettling, difficult day of his life, with relationships fracturing, a harrowing incident at work, and a showdown between this gay teen and his preacher father that changes everything. It's a day of confrontation, running, sex, love, heartbreak, and maybe, just maybe, hope. He won't come out of it unchanged. And all the while, lurking at the edges of the story, something extraordinary and unsettling is on a collision course."
-from publisher
Thoughts:
Apparently no relevant gifs appear when you Google "Bookception," so I had to make do.
Two storylines! But woven together so wonderfully…
Adam's storyline sparks a supernatural journey of vengeance and, you guessed it, release. Both storylines mirror each other in the most fantastic way.
A lot is happening here and it's crazy to think that it's all in one day! Adam is a really relatable character, trying to differentiate between what he had, what he has, and what his future will hold.
I will say there is a lot of sex in the book. Which is weird considering Adam makes a point of saying that his and his best friend's sex lives are underwhelming or typical or something like that….but I'm going to go ahead and disagree with that statement!
This is my second Ness book this year and I'd never read anything by him before. But I'm kind of thinking I need to go read everything he's ever written because both books were amazing!
He has such a gift for exploring everyday life by juxtaposing it to the supernatural/magical. It's probably not for everyone, but I just find it so intriguing!
Plus: So many important things in such a short book! It's just beautiful and strange and great.
Minus: A little TMI on the sex life at some points…but maybe that's just me. I do give major props for freely writing about a gay main character's sex life- that is something we don't see a lot of.
If you like this book, try: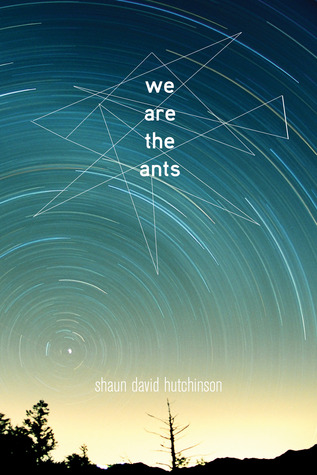 We Are the Ants by Shaun David Hutchinson- In which a teenage boy has to decide whether or not to let aliens destroy the planet. I have yet to read any of Hutchinson's books, but they sound just as enchanting and bizarre as Ness'. The covers even look similar…