Inside cover blurb:
"For the millions who log in every day, Warcross isn't just a game—it's a way of life. The obsession started ten years ago and its fan base now spans the globe, some eager to escape from reality and others hoping to make a profit. Struggling to make ends meet, teenage hacker Emika Chen works as a bounty hunter, tracking down players who bet on the game illegally. But the bounty hunting world is a competitive one, and survival has not been easy. Needing to make some quick cash, Emika takes a risk and hacks into the opening game of the international Warcross Championships—only to accidentally glitch herself into the action and become an overnight sensation.
Convinced she's going to be arrested, Emika is shocked when instead she gets a call from the game's creator, the elusive young billionaire Hideo Tanaka, with an irresistible offer. He needs a spy on the inside of this year's tournament in order to uncover a security problem . . . and he wants Emika for the job. With no time to lose, Emika's whisked off to Tokyo and thrust into a world of fame and fortune that she's only dreamed of. But soon her investigation uncovers a sinister plot, with major consequences for the entire Warcross empire. "
-from publisher
Thoughts:
Lerrrrved it.
This is actually the first book by Marie Lu that I've read, if we're not counting my failed attempt to read The Young Elites (I liked it, I just never got around to finishing it).
It was a little slow for me in the beginning. I wasn't so invested in Emika as a character and I guess I that didn't really change throughout the book now that I think about it.
I was much more interested when she got called to Tokyo to work for Hideo. Oh Hideo…
Warcross, the virtual reality game, sounds great and terrifying all at once, especially all the illicit goings-on. That might make an interesting companion story actually.
Hideo though. I feel like he was the real star of the book. I kind of wish he were more complex/creepy (maybe that's just me), but I'm interested to see his character progression in the next book..books? Not sure how many installments Lu is planning for the series.
The ending was totally predictable to me which was unfortunate but also very satisfying because now I just want to know why.
I'll definitely hang in for the sequel…sequels?
Plus: The game is such a fun concept and so is the entire book really.
Minus: Bit predictable, wasn't so interested in the main character.
If you like this book, try: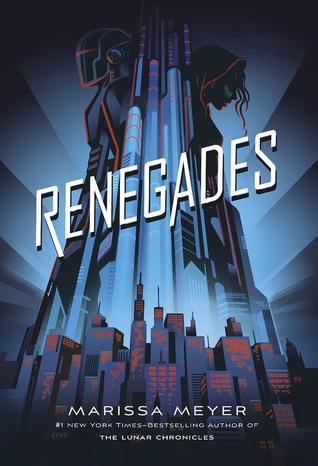 Renegades by Marissa Meyer- I haven't got my hands on a copy of this bad boy yet, but I'm thinking they're going to be kind of on the same high octane level. This one is about superheroes though!