Inside cover blurb:
"Sometimes a new perspective is all that is needed to make sense of the world.
KIT: I don't know why I decide not to sit with Annie and Violet at lunch. It feels like no one here gets what I'm going through. How could they? I don't even understand.
DAVID: In the 622 days I've attended Mapleview High, Kit Lowell is the first person to sit at my lunch table. I mean, I've never once sat with someone until now. "So your dad is dead," I say to Kit, because this is a fact I've recently learned about her. 
When an unlikely friendship is sparked between relatively popular Kit Lowell and socially isolated David Drucker, everyone is surprised, most of all Kit and David. Kit appreciates David's blunt honesty—in fact, she finds it bizarrely refreshing. David welcomes Kit's attention and her inquisitive nature. When she asks for his help figuring out the how and why of her dad's tragic car accident, David is all in. But neither of them can predict what they'll find. Can their friendship survive the truth?"
– from publisher
Thoughts:
I didn't really enjoy Buxbaum's Tell Me Three Things so I was a bit skeptical about What to Say Next…but this book surprised me in the best way!
Let me start off by saying that this is probably the first YA novel I've read about autism spectrum disorders and I don't know a whole lot about them in general, so I can't comment on how realistically David's character is portrayed.
But I loved the relationship between Kit and David. The death of Kit's father transforms her worldview and she comes to realize the things she found important before were shallow. This allows her to connect with David, who she had been overlooking for so many years, simply because he was different.
There's a part where David gets a makeover which is a little cringe worthy, but Buxbaum also pokes fun at it, making comments about how it's subverting the stereotype of the teenage girl "ugly duckling" moment.
And there's also a twist ending! You don't see too many contemporary novels giving you twists and turns, but it really added to the unexpectedness of this story.
Plus: There aren't as many YA books out there on autism spectrum disorders, or at least I haven't run across them. Feel free to comment if you know of any good ones!
Minus: The cover is slightly misleading because the book deals with some pretty heavy issues.
If you like this book, try: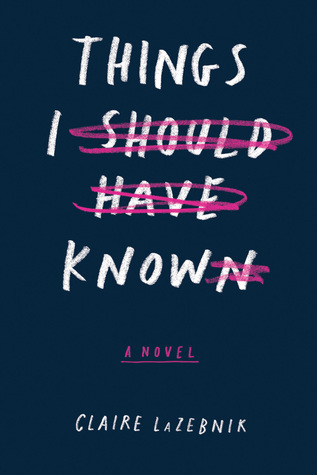 Things I Should Have Known by Claire LaZebnik- A girl tries to set her sister, who's on the autism spectrum, up with a boy in her class. And she ends up with feelings for the boy's brother.