Inside cover blurb:
The only daughter of a prominent samurai, Mariko has always known she'd been raised for one purpose and one purpose only: to marry. Never mind her cunning, which rivals that of her twin brother, Kenshin, or her skills as an accomplished alchemist. Since Mariko was not born a boy, her fate was sealed the moment she drew her first breath.
So, at just seventeen years old, Mariko is sent to the imperial palace to meet her betrothed, a man she did not choose, for the very first time. But the journey is cut short when Mariko's convoy is viciously attacked by the Black Clan, a dangerous group of bandits who've been hired to kill Mariko before she reaches the palace.
The lone survivor, Mariko narrowly escapes to the woods, where she plots her revenge. Dressed as a peasant boy, she sets out to infiltrate the Black Clan and hunt down those responsible for the target on her back. Once she's within their ranks, though, Mariko finds for the first time she's appreciated for her intellect and abilities. She even finds herself falling in love—a love that will force her to question everything she's ever known about her family, her purpose, and her deepest desires.
Thoughts:
Yeahhh so this is very similar to a Japanese version of Mulan…but I think it's still worth your time.
The main character, Mariko, is different than Mulan in important ways- she doesn't embark on her quest out of love for her family (though that theme is present throughout the book), but for herself, to prove that she is worth more than a pawn to be married away.
She also comes from a place of privilege and is confronted with things that open her eyes to the cruelty and injustice of the system her family has benefited from.
The overall plot is gripping and fast-paced and I was actually rooting for Mariko-Okami. Can I just say how glad I am that there weren't any love triangles? I wasn't a huge fan of the ending…but just because I have so many questions!! I'm very interested to see where the story goes from here!
Plus: There aren't a lot of Asian main characters in books, so yay for visibility! Mariko is also just a fantastic main character, regardless. It has been a long time since I actually cared about shipping couples in YA books, but this one brought me back to the feels.
Minus: You're gonna talk about cool mystical powers and give me NOTHING about them??? That had better be explained in book 2.
If you like this book, try: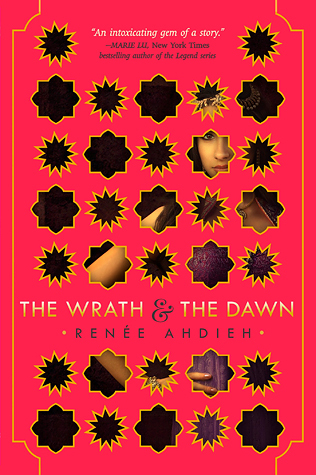 The Wrath and the Dawn by Reneé Ahdieh- Same author, but this one is actually based on A Thousand and One Nights.