Inside cover blurb:
In a galaxy powered by the current, everyone has a gift.
Cyra is the sister of the brutal tyrant who rules the Shotet people. Cyra's currentgift gives her pain and power — something her brother exploits, using her to torture his enemies. But Cyra is much more than just a blade in her brother's hand: she is resilient, quick on her feet, and smarter than he knows.
Akos is the son of a farmer and an oracle from the frozen nation-planet of Thuvhe. Protected by his unusual currentgift, Akos is generous in spirit, and his loyalty to his family is limitless. Once Akos and his brother are captured by enemy Shotet soldiers, Akos is desperate to get this brother out alive — no matter what the cost.
Akos is thrust into Cyra's world, and the enmity between their countries and families seems insurmountable. Will they help each other to survive, or will they destroy one another?
Thoughts:
I normally don't like sci-fi/fantasy that uses so much world building and I didn't even really see myself finishing the book once I started…but I'm glad I pushed through. Things got easier to follow and the story became much more compelling. I'll be interested to see where she takes the story from here (I assume it's going to be series of course).
Plus: Awesome main characters, really good family drama, and not too heavy on the romance. I think I may even like it more than Divergent!
Minus: It was a very complex setup with a lot to learn. But it turned out to be a good thing in the end.
If you like this book, try: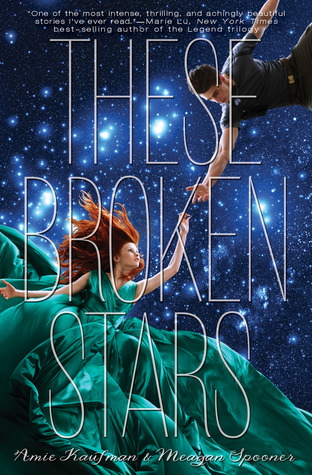 These Broken Stars by Amie Kaufman and Meagan Spooner